Regular visitors will know that one of the goals set for the blog was to respond to the daily prompt for the next 3 months. Today's daily prompt is:
That's just too easy when you're a cat blog! Though it is difficult to give 4 cats treats and take a picture…
Attempt 1: Lidl Coshida cat stick
Cat sticks are the favourite treat of Nova. He goes crazy. Whilst money is tight we haven't given them many. Somewhat inevitably, Nova went extra crazy and was far too swift for me to take any pictures.
I did catch him on the Instagram Boomerang app though!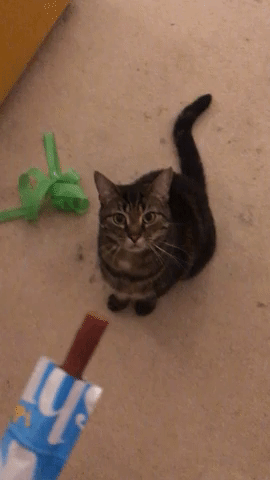 Attempt 2:
Whiskas Crunch. (I assume this is similar to Temptations?) We buy a lot of our cat essentials from Zooplus, so we got these with our points from the reward store.
Jazz hasn't had many cat treats as we didn't buy kitten treats (normal cat treats shouldn't be given to cats < 1 year old). This is only the second type he's had. He was super keen, licking his lips and trying to hit them out of my hands. Given their enthusiasm, I'm surprised I didn't drop my phone!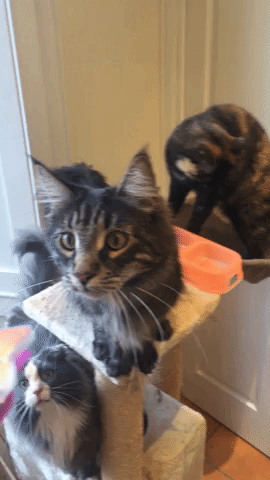 If you liked this post, don't forget to paw like and follow (right-hand side).
This post is in not affiliated with or sponsored by Coshida, Whiskas Crunch or Zooplus.
Response to the WordPress Daily Post one-word prompt: Treat

 (Not updated for 2018 yet!)
---
In other news, we'll be launching our second weekly Feature post tomorrow. Follow us here or on social media if you want to be notified (also on the right-hand side).
Finally, if you missed it, Wednesdays is the day for a cat haiku, check it out.
Much love,
Annie, Will and the kitties x